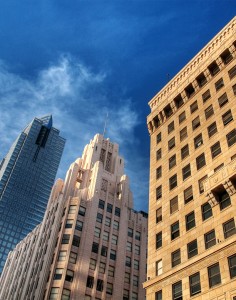 Until recently, commercial real estate seemed to be trending away from office towers. In fact, between 2008 and 2012, there was only one office building sale (Google's headquarters in Manhattan) that hit the $1 billion mark. But all that seems to be changing. These days, tall office buildings are a hot property.
June 2013 appears to have marked the beginning of this new trend. Consider that over the course of a single week:
So, why the sudden craze for office towers? It's a combination of several factors, actually.
Low interest rates have sent investors scrambling to find high-yield investments, and office buildings (especially those with long-term tenants) in major cities are a pretty safe bet. Commercial mortgage delinquencies have declined, the recession is (hopefully) a thing of the past, and bidding on office tower properties has become very competitive.
(In fact, property values have been rising faster than rental rates, leading some to believe the market may be on the verge of overheating.)
Meanwhile, the market for commercial mortgage-backed securities has grown. This has led to favorable loans for landlords as Wall Street banks have upped the number of new commercial mortgages they're offering. These mortgages are sold off as bonds, which are quickly snatched up by the investors in search of high-yield investments.
Source: Tall Towers Lure Property Investors (Wall Street Journal)